Welcome guests from Festival of Frugality #125 at Quest for Four Pillars! Please feel free to peruse my site and leave comments where you feel inspired. If you feel particularly inspired, sign up for my feed (right hand margin). Either way, make yourself at home.
And I'm quite proud to note that this post was listed as one of Kyle's (from Rather Be Shopping) favorites! Thanks!
Tuesday late afternoon there was a big boo-boo in our neighborhood. A landscaping company was digging holes to plant full-size palm trees and hit a power line. Yep. All of our lines are underground, so I'm not sure if they didn't call before digging or what, but the result was this.
Our entire neighborhood including everything from us to about 1-1/2 miles toward the interstate were out of power. That included a Food Lion, CVS, Zaxby's and another neighborhood. Wow.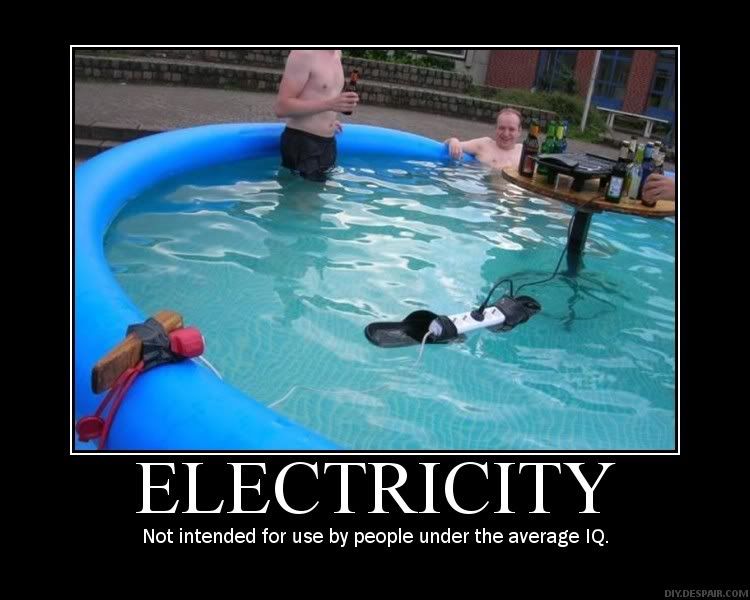 Anyway...our need to find something to do until time for bed inspired the follow ideas of things to do when your power goes off:
Daylight:
Picnic lunch/dinner
: Pull out the sandwich supplies, throw a blanket on the ground and have a family picnic! You won't be able to cook, so this is the perfect opportunity to use up that lunch meat and snack-type items. Plus, if you have anything like potato salad in the fridge, you might want to use it up in case the power is out a long time and you could end of losing it anyway.
Grill out
: Same idea--if you have meat that could possibly go bad, grill that stuff out on the grill. I LOVE grilled food and this is the perfect excuse to fire yours up!
Play with sidewalk chalk:
Seriously fun for all ages. The toddlers can simply scribble (or demand you draw for them like Little Nespy does) and the older ones can create entire sidewalk murals. It is a chance to explore your artistic side.
Outdoor games:
You know--hopscotch, jump rope, Mother-May-I, Redlight-Greenlight, and other childhood wonders. Hula-hoop or play hide-and-seek. Whatever tickles the fancy. Fun for the whole family. Let mom and dad see if they can still do somersaults or cartwheels. Just have fun!
Ride bicycles:
Once again this could be good for the whole family to spend time together (great exercise too!)
Take a walk:
If you need to pile little ones up in the stroller, do it. Just take a walk. It doesn't need to be "exercise" (like a power walk) but just time to explore nature and enjoy some fresh air.
Gardening:
If you have a garden or flowers you tend to, this takes away all excuses of inside chores that need to be done (laundry, cooking, vacuuming, etc) and gives you reason to get some outside work done.
Play in the water hose or kiddie pool:
Once again, fun for everyone...and enough to really cool you off if you live in the deep south and are pining for your lost AC!
Jigsaw Puzzles:
Although there are some similar items to be listed under the "darkness" category, these are not easy in the dark, so I will list them as "daylight" activities.
Darkness:
Picnic/campfire:
If you live outside the city limits and outside of a neighborhood, you can get away with a campfire. Roast hot dogs, marshmallows, make smores, tell ghost stories. Do whatever makes the evening fun.
Read by flashlight
: Okay you could easily do this in the daylight, but it's easier and better to take advantage of outside time while it is daylight, so I'm sticking this in the darkness category. You can read as a family or send each member to their own area to just have some quiet time alone with a good book.
Puzzles/Crosswords:
We love crosswords, logic puzzles, acrostics, etc in our home, so this gives us time to step away from all of the electronic gadgets and just take some time to think and stretch our brains.
Make music:
Easily done by candlelight, your family can make music together. Sing, dance, play instruments, bang on kitchen items, whatever suits you. Just have a great time!
Board/Card games:
Another favorite around our house. Monopoly, Chutes and Ladders, Trivial Pursuit, Scrabble, Life, whatever you like. Card games could be heart/spades/rook, old maid, go fish, canasta, rummy, phase 10. You could even play dominoes. The possibilities here are almost endless!
Non-board/card games:
You know...charades, twenty questions...delve back into the back of your brain to recall those games from childhood to share with your kids. Or let them suggest some that they have learned at school or church.
Talk:
Although this will most likely happen while all of these other things are going on, just spend time together getting to know each other better. That's right...we can often lose touch with people that live in the same house as us just because we're all so busy. Talk about your day, your dreams, your friends, anything that comes to mind.
So there is a list of things that you can do around your own house if you are out of power for a while. You could, of course, always go somewhere else...like a park, the library, or whatever you like...but I wanted to keep it contained to your own home.
Come to think of it...this stuff sounds like a lot of fun. Maybe we should do this voluntarily more often!
What other recommendations do you have?